LETTING GO IS NOT EASY
Our kids are gonna leave us.

Ugh. Just this thought rips my heart to pieces. Yet, I know that letting go of my girls, baby-step by baby-step, is the deal. It's what I signed up for, but it's so hard to do! As a mom, it doesn't matter if your child is taking her first big girl step into those pre-school doors, or your grown "little man" is hopping into his overstuffed car heading off to college. In moments like these, every mother experiences a range of emotions anywhere from fear and worry to excitement, pride, and hope.

Letting go is an essential part of mothering, and we Mindful Mamas continually refine the art of doing it gracefully (if not for our sake and sanity, for our child's well being). We have to love our children enough to let them go. They are not ours. They never were. They are their own entities, and our job is to protect and guide them as they become strong, independent, and capable. Clinging to their youth or to our identity as their mother only brings us pain and suffering. So not mindful, am I right?! Anytime we experience pain, fear, worry, anxiety, or a desire to control when it comes to letting go of our kids, we are reminded of the work we need to do on ourselves.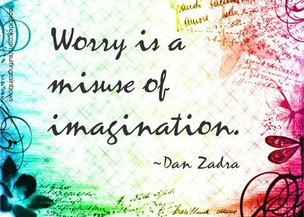 IT'S ALWAYS BEEN A MATTER OF TRUST
Letting go is a crucial part of mindful mothering. Negative emotions like worry and fear always take us out of the present moment-- almost instantaneously. It's impossible to "be in the moment," exuding peace and acceptance when your head is projecting into the future events that scare the sh*% out of you! You are never capable of handling future events that aren't real, and worry and fear are always about the future.

Worry. Worrisome and fearful thoughts always paralyze us because when we project into the future, we feel a tremendous sense of loss of control. And no mama enjoys feeling a loss of control when it comes to her kids.

The secret is that you are always, always, always capable of handling any situation that occurs in the present moment. Always. The way you get yourself out of the mental trap that fear and worry has propelled you into is to rationalize with yourself that if that disastrous moment were to really occur (and we all know that the chances of it happening are highly unlikely), you'd be able to handle it. For you always have, haven't you? I venture to guess that as a mother, you have a proven track record of handling many worst-case-scenarios in the moments they arise. Remind yourself of that. Trust yourself.

Yet, it's so easy to forget. Letting go is easier said than done. I know. But we have to do it. We have to let go-- gracefully. Otherwise our minds rage like a toddler who is starving and sleep deprived. And every time this happens, we disconnect from the moment. And every time we disconnect from the moment, we disconnect from our lives, our kids, and ourselves. Since we recognize the power of mothering in the moment, letting of control, worry, and fear as we let go of our kids is what we have to do.

So what's the worst that could happen if you intentionally let go of control, fear, and worry? My Ego tells me that if I don't control enough, or worry enough, that bad stuff will surely happen. (If only that were the magic formula-- just worry and then bad stuff won't happen.) In reality, the worst that could happen is the best thing that could happen… you'd stop letting fear and worry control you and how you mother.

Consider this little secret: when you let go of control and fear, you don't actually lose anything (not anything worth having, anyway). Rather, you gain something in return-- trust. When we don't unnecessarily interfere with our kids' lives, we trust them. Trust is love. It's a felt emotion. When your child feels trusted, they gain self-confidence and learn to trust others. When you trust yourself and your ability to handle any situation in the present moment, you gain self-confidence and trust life. When you trust the moments of your life, your ability to mother from a place of serenity and love is greatly enlarged.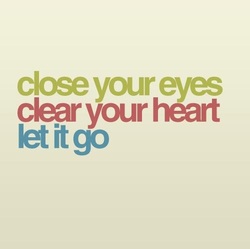 YOUR MINDFUL MAMA PRACTICE

"Fear is love inverted, or your own mental power turned against you."
~ Marianne Williamson, A Course in Weight Loss

Give it 5 minutes, and you'll be faced with a situation concerning your child where fear will strike your heart, and you'll need to let go gracefully. Instead of turning your power against yourself by entertaining thoughts of fear and worry, choose hope. Choose trust. Hope and trust ground you in the present moment. Choose to trust your child, their strength, their wisdom, their spunky attitude they inherited from you. Let your hopes for your child outweigh your fears. Let go gracefully. For in letting go gracefully we remind our hearts that when it comes to letting our kids go, nothing is really lost and everything is gained.