Too Busy to Meditate?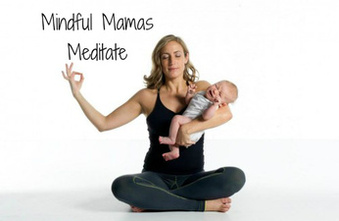 We know, we know...moms are busy. Way too busy to meditate, right? But actually, it's because of all this busy-ness that meditation can actually do us some good! Just give it 5 minutes, just 5 minutes every day, and you will see amazing results-- you'll feel centered, relaxed, and grounded in yourself. You'll reconnect with your intuition, patience, wisdom, and love-- just a few of the qualities that we really need in our mothering.

Meditation brings us back to our center point. It helps us to avoid burnout and utter exhaustion. And boy do we need it; the relentless demands, stresses, and responsibilities of motherhood whip us around so much that at the end of the day, we don't know which way is up! That's why we meditate. In just a couple deep breaths, it brings us back into alignment with who we really are...our center point of beingness. As Mindful Mamas, our meditation practice is our grounding point; it's our practice of continually strengthening our connection with ourselves. We do this because we know that the depth of connectedness we have with our kids, our partners, and our lives is determined by the strength of connection we have with our True selves.

Give it a try! Start simple. Designate 5 minutes every day this week to sit, center yourself, and focus on your breath. Every minute you spend in meditation is such an incredible gift for yourself (think more energy, more calm, more insight), and it's such a gift for your kids, too. For they will feel the energy, the calm, the compassion you cultivated in that space.


Meditation is our secret weapon in our mindful mothering practice-- it's our secret tool to relieve stress, improve our mood, and make us more efficient (and nicer to be around) in our fast paced days.

Benefits of Meditation
Improves concentration (Hello! What mama doesn't need this one?!)

Builds self-confidence

Increases positivity and mood

Decreases attention deficit tendencies

Leads to a relaxed mind and bodily state

Reduces anxiety attacks

Decreases muscle tension

Clears your head so you can solve problems better

Increase in the capacity for intimate contact with loved ones

Decreases tendency to worry

Increases listening skills and empathy

Helps you discover your purpose

Increases acceptance of oneself

Helps living in the present moment

Changes attitude toward life

Increases compassion

"Women begin life as someone's daughter, and then someone's lover, wife, someone's mother. Yes, but who am I- who am I really? Not only does a woman need an understanding of her body but also needs to connect with the essence of her true self. A true self, which is an identity beyond everyday change- beyond gender, beyond fluctuations of hormones, beyond family expectations and other superimposed personality patterns. Discovering this true self is not as easy. Just when you know who you are , it all changes again... The place for this self discovery is not the psychiatrist's couch, the matrimonial bed, the mother's group, or even a yoga retreat, but within your own private meditation times."
~ Health and Yoga.com

Meditations We Love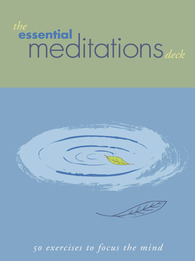 Illuminate Your Spirit

"In religious symbolism, light often represents spiritual illumination. Use this metaphor to visualize your own spirit. Picture a point of light at the center of your being that exudes pure, brilliant energy. Feel its warming incandescence flowing within you. Each time you breathe in, your spiritual light grows brighter, fanned by life-giving oxygen. Meditate like this, breathing deeply, and evenly, for five minutes."

Absorb Love

"When we are disconnected from our true selves-- say, through stress-- we can feel unworthy of love. To help restore your capacity to receive love, visualize yourself as a rose. In order to flourish, you need to take in light, water, and nutrients. These represent the many facets of love in your life-- friendship, passion, and kindness among them. Make a conscious effort to appreciate and absorb these facets in daily life; feel yourself blossom and grow."

More Articles on Mothering & Mediation