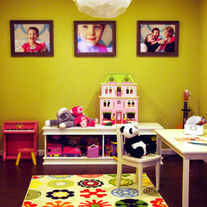 Image Source: houzz.com
What might happen if you reduced your child's toys by half… then half again? Would they even notice? My girls didn't. It's ironic, as you decrease the quantity of your children's toys and clutter, you increase their ability to pay attention and their capacity for deep play (Kim John Payne,
Simplicity Parenting
). Why? Because there are less choices. It's a natural human tendency to get overwhelmed and withdraw when there are too many choices. Our kids do this, too.
The Mindful Mama goal: control the clutter so that a smaller, more manageable quantity of toys remain that invite deep play, engagement, imagination, and attention. These three steps will help you to be intentional about clearing the clutter so that you can create the space for your kids' engagement, imagination, and attention spans to soar!
Step 1: START WITH PILES
With all acts of simplicity, you have to have a plan. Decluttering your child's space starts with planning 4 piles, so grab some sterilite bins and have some fun! Label them:
1) KEEP, 2) TOY LIBRARY, 3) DONATE, or 4) DITCH
. Explain your plan to your kids as you engage them in the process of mindfully managing their space. When I did this with my 5 and 3 year olds, they were asked to choose a couple items that they wanted to play with now, ones they wanted to play with later, and ones they were done playing with to give to other kids. This was an incredible eye opener for me. I found that the toys that my girls were insistent on keeping out were the ones that were the most simple. For instance, dolls were the overwhelming winner. My girls love baby dolls that they can cuddle, mend, feed, teach, and take on adventures. For my girls, dolls provide an opened opportunity for creative play and imagination.
After we had our piles, the girls chose specific toys they wanted to keep out in the open, and the rest of the
"keep"
pile, I organized in bins and labeled them; arts & crafts, dress up clothes, crayons & coloring books, puzzles & games, etc... I noticed that having specific bins for specific things made clean up so much easier. The girls know exactly what goes in each bin, so when I ask them to clean up their space, they do all the organizing themselves! (Does it take them a little longer to clean up...yes. But, they are learning such an important skill of taking care of and organizing their space. I also find it a perfect opportunity to talk to them about the importance of a clean, clear space.)
The
"toy library"
is where you store all the toys your children still love to play with, but you don't want hanging around in the open. I usually rotate the girls toys whenever I feel they are getting bored in their play space. A good tip to follow-- if you bring out 5 toys from the library, 5 other toys go back in.
Donate
toys that are still in good condition, and
ditch
toys that are broken or damaged beyond repair.
Step 2: CONTEMPLATE
As you pick up each item (yes, each and every item!), ask yourself,
"Is this a toy my child can pour their imagination into, or is it too complicated?"
Too complicated
means something that your child has to grow into to play with, toys that do too much, or are too stimulating
(Simplicity Parenting).
If you are not sure, think about how they have played with it in the past. If they have rarely touched it, you have your answer. Asking this question as I held each toy in my hand helped me decided which pile it truly deserved to go in.
Step 3: MAINTAIN THE SPACE
It takes awareness and mindfulness to maintain a clear space for our kids. Especially as the gift giving season is very near, lots of new toys will lovingly be brought into your child's space. Come up with a plan-- perhaps for every new toy that arrives, and older toy will be placed in the "toy library." After the initial rush of present opening and quick play sessions with each new toy have ended, I pay attention to 1 or 2 specific toys my girls spend more time playing with. I then clear all the other toys and put them away for another day. Sometimes I bring them out the next day, next week, or next month. My goal is to just be mindful of the clutter. It's not to deny them their toys. It's intentional mothering, knowing that the less they see, the more engaged they will be with their current toy-in-hand.
As MINDFUL MAMAS we are intentional with clearing the clutter to create space for our child's natural curiosity and imagination to thrive. When we do this, we also simplify our parental duties. For too long I felt I had to always entertain my girls. Now I realize that all I need to do is create the space for them to "let" their play happen instead of "make" it happen.
"You don't need to stimulate or enrich play. You don't have to control it. Sometimes we parents help most by getting out of the way, while being available. We can provide time, opportunities, and resources…by allowing rather than controlling, we give children a sense of freedom and autonomy. Their play is open-ended, the choices and decisions are theirs to make, and the discovery process includes self-discovery." ~ Simplicity Parenting by Kim John Payne