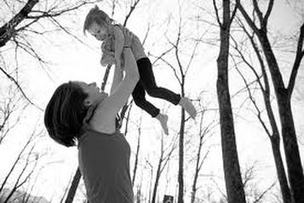 Mindfulness (and mothering) isn't about self transformation, as much as it's about
self-acceptance
. Noticing the subtle difference between "transformation" and "acceptance" can greatly deepen your personal growth as a woman and a mother. The primary difference between these two paths is the point of intention. When we seek to "transform," often times we are seeking to move away from a bad habit or some weakness we want to overcome or refine.
"I need to be more present with my kids, I need to not be so angry, I need to be more disciplined to exercise and eat right…."
These intentions are focused on what's wrong or what's lacking. But when we focus on our weaknesses, we unconsciously reinforce negativity and the fear of not being good enough. When we are driven by fear, we focus on DOING more, than just BEING more of the person we already are (who is already pretty terrific). Often times, when we continually focus on what we're not doing well in order to spur change or growth, we run out of energy before we can make any profound shifts in our lives.
Acceptance, on the other hand, is more productive point of intention because it's the act of "focusing on the good" and noticing what we already do so well.
"Focusing on strengths works simply because it feels better than focusing on weakness. It creates energy, which is always necessary for transformation"
(
What Happy People Know, by Dan Baker
). It's a funny thing, when we focus your energy on self acceptance-- intentionally acknowledging what we do well NOW-- transformation occurs naturally. Why? Well, consider how you encourage better behavior in your kids; you probably use positive reinforcement to encourage good behavior. When you focus on the positive, positive actions result.
Mindful Mama Strategy: FOCUS ON YOUR STRENGTHS
If we want to make happiness a habit, it take consistent effort-- we have to be deliberate and intentional with our thoughts and actions. Here are some simple (and fun!) suggestions to get you started:
Every day, continue to write in your "gratitude and growth" journal (see Happiness Shift #1 vlog below), one thing you did well that day in your mothering. The more you write it down, the better you'll get a making focusing on your strengths a habit. Good habits change our lives!
Make a (mental or physical) list of several things you do well as a mother almost every single day…and no act is too insignificant. Sometimes as moms, we completely discount all the small moments of mothering that we do so very well, and often times, these small moments make the biggest difference: spending quiet time with your kids before you tuck them in, planning and preparing healthy meals, keeping the house clean and orderly, giving your child 5-10 minutes of your uninterrupted attention, listening to them with eye contact when they talk, dropping off and picking up your child on time to all their events, telling them "no" when they need to hear it, being silly and fun, stepping back when they need to do something for themselves, etc. YOU ALREADY DO SO VERY MUCH SO VERY WELL ON A DAILY BASIS. Either post your list somewhere that you'll be reminded of it, or every time you do that act, make a mental note of what a good job you are doing.
Treat yourself! Positive reinforcement works for mamas, too! When was the last time you bought yourself your favorite coffee drink, purchased that $20 dress from Target that caught your eye, or treated yourself to a long, hot bath? Every week, seize the opportunity to do at least one nice thing for yourself to show yourself appreciation for all that you ALREADY do well as a mama. Appreciation always feels good when it comes from others, but when you show it to yourself, it feels amazing!