"Living authentically demands that you take some risks from the heart. You have a calling of some kind, in addition to your role as a mother." ~ The Balanced Mom, by Bria Simpson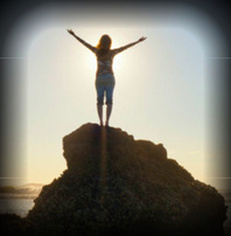 Courageous mothering is not only about connecting with our children on a soul level, it's about connecting with ourselves on a soul level, too! It's about continually aligning our thoughts, actions, and words with the desires in our hearts. Courageous mothering is living our lives authentically so that we model for children the freedom, happiness, and joy that comes from living a life that is aligned with our True Selves.
These tips on courageous mothering are taken from one of our favorite books,
The Balanced Mom
, by Bria Simpson. Mindful mothering is all about balance; balancing our kids needs with our own and balancing our calling as a mother with our other callings and passionate pursuits that deserve expression. This takes courage!
We are all at different points on our mothering journeys, but one thing is important no matter what stage we are at-- we MUST protect some quiet time for ourselves to continually reconnect with and express ourselves. Our passions, our desires, our heart's calling is what brings incredible amounts of joy and energy into our lives and our mothering. We simply can't deny this part of ourselves, even when it feels like time is not on our side.
So whether your youngest is still years away from starting kindergarten, or your children are already more self-sufficient or in school full-time, the present moment is the perfect time to embrace your courage-- your courage to be that amazing, multifaceted, multi talented, vivacious, passionate, and joyful mama who not only brings her whole heart to her mothering, but to the world as well!
TIPS FOR LETTING YOUR COURAGE EMERGE:
(from
The Balanced Mom,
by Bria Simpson)
Set a goal to add something authentically satisfying to your life: Add something that emerges from your heart and soul, that you know intrinsically is in your best interest. Create a plan for bringing it into your life.
Set you own pace: As a busy mom, set up your endeavor so that your pace is realistic. Stay clear with your top priorities and keep a healthy balance.
Keep your focus on baby steps: "One step at a time." This is how we accomplish large feats-- with courage, sustained effort and taking baby steps in the right direction.
Expect challenges along the way: By bringing in something new, you are changing the dynamics of your family. Some family members may not appreciate it if you are less available...you may feel uncomfortable with how your evolving life impacts others...you might feel discouraged by the self-discipline that is required. Expect challenges along the way and don't let fear hold you back.
When you are trying out something big, expect big fears: Your mind might decide to torture you. Acknowledge your anxiety and do it anyway.
Accept that not everyone will understand: Not everyone is going to understand and appreciate your courage. The sooner you realize that real courage requires letting go of what other people think, the happier you will be.
Surround yourself with support: Limit time with people who fuel your fears.

Now is the time, mama! Today is the day to take that one step forward-- even if that means visualizing for just 5 minutes while shuttling your kids from event to event-- visualizing what you need to do to continually rediscover and reconnect with the desires of your authentic self. What is she calling you to do, to be, to become? Have the courage to listen to that voice. Be mindful of how your fears and doubts will try to convince you to hold back. Just notice them. Then, as Bria says, "do it anyway!"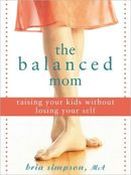 Tips for "Letting Your Courage Emerge" are taken from Bria's book,
The Balanced Mom
. You can read our review of her book on our
"Favorite Things"
page. Get your copy of this fantastic book and join us this spring for our
Mindful Mama Book Club
. We'll be reading and discussing this chapter and many more!