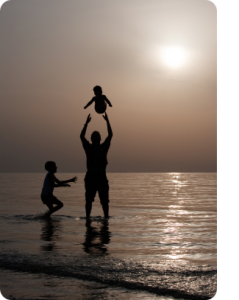 It's true, moms. The fathers of our children are pretty darn mindful. It's time start taking notes and giving credit where credit is due!

Here are the top 10 reasons why the men in our lives are magnificent at this mindfulness thing:

10. He is playful with the kids. They love this, and it's their special way to bond.
(Notes for mom: Just relax, enjoy the moment, have fun. Your kids interpret playfulness as love.)

9. He never feels guilty being away from them; either while at work, working out, or going out with the guys.
(Notes for mom: What's the point of guilt? Sometimes you gotta do what you gotta do to fill yourself up so you can give more or simply provide for your kids. This is nothing to feel guilty about.)

8. He doesn't let his emotions influence how he disciplines. When he says "No," he means "No," every single time.
(Notes for mom: Dads don't worry if their kids will love them if they set limits. Being an objective parent means that you step back and evaluate a situation for what it is without letting your emotions (aka--unchecked thinking) influence your response.)

7. He makes them do things for themselves and learn from their mistakes.
(Notes for mom: He "perceives" his child as capable instead of incapable. The way you perceive your child influences what you expect of him. Your child will rise (or fall) to your expectations every single time.)

6. He doesn't over think, over plan, or over control every situation. He allows for the spontaneity of the moment to be enjoyed!
(Notes for mom: When you let go of control, you gain trust. When you trust a situation or person, you are more relaxed, content, and happy.)


5. When he plays Polly Pockets, Play-Dough, or Legos with the kids, he just plays. He isn't thinking about 50 other things he needs to get done.
(Notes for mom: Dads are masters at "single-tasking." When you master the art of "single tasking," you master the moment. You are present, you are aware, you are grateful & you appreciate the beauty of ordinary moments with your kids.)

4. He doesn't coddle the kids, but acts lovingly towards them.
(Notes for mom: Again, he "perceives" them as capable, strong, and competent. Kids pick up on this, thus they gain confidence and self-reliance; two excellent traits to foster in your children at any age.)

3. He feels no guilt in expecting them to play by themselves and make themselves happy.
(Notes for mom: Dads realize that it's not their job to make their kids happy. Dads are aware that it isn't in their child's best interest to entertain them all day long. When children are encouraged to play on their own, they learn how to fight off boredom, be imaginative, and creative. Most importantly, they learn that their happiness is their responsibility.)

2. He never makes excuses for their behavior. He holds them accountable.
(Notes for mom: Holding your kids responsible for their actions means that you perceive them as competent individuals. When kids are held accountable for their actions, they learn that they are in control of their lives. You learn that you can trust them with this control.)

1. He is affectionate towards you in front of the children. He is teaching them what love looks like. When they see him lay one on you, everything is right in their world.
(Notes for mom: When our husbands seize the moment and take the opportunity to remind us of how grateful and appreciative they are of our very existence… well, this is the epitome of mindfulness.)

Which one are you going to embody today? Me... showing more affection. He so deserves it, and my girls deserve to see it.