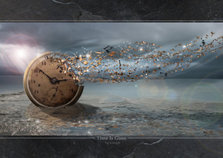 tumblr.com

Did you feel it-- feel the world stop on Friday? We all did. I believe that Mother Nature and the entire Universe felt it, too because the events of that day went against every law of nature; another human being doing such unimaginable harm to another, especially our children…our future…our visible reminders of what it means to be blissful, perfectly present, and filled with divine energy and pure love.

The news of the horrific tragedy in Connecticut delivered a punch so hard, that collectively, we all lost our breath. And whenever we lose our breath, we lose our mental balance, and fear instantly takes root in our minds. We become confused, dumbfounded, and paralyzed. This is how I, and I am sure many of us, couldn't help but feel upon hearing the horrific news. But as human beings, especially as mindful mothers, in tragic times like these, we must rise above our fears and ground ourselves in the profound love we have for our children. For our divine connection to our kids reminds us of the power of our love to create miracles. Love begets love. Love is contagious-- but only if our hearts remain open to let it flow freely.


Feel It to Free It

I was awestruck by how quickly reading about the details of that day shut me down. I wept deeply, almost uncontrollably at times. The depth of my emotions were a clear indicator of rampant thoughts of fear running through my head. As frightening as it was, I allowed myself to feel everything; not that I really had a choice. These emotions were no match against my feable attempt to suppress and avoid them. The moment I truly let go and lost myself in the intensity of what I was feeling, I heard a voice. It was crystal clear, and it hovered somewhere above the chaos and the confusion. It was my true voice; the voice of my heart. "Jen….what's going on? Why is this hitting you so hard?"

This was my mindfulness practice paying off during a pivotal point in the game of life. This simple act of self compassion and present moment awareness enabled me to see past my fear. The moment I noticed and labeled it, I instantly gained clarity. I realized my emotions were so severe because I felt deep grief for the immeasurable loss of precious life, as well as a profound sadness for the parents of the souls lost and children who survived but lost their innocence. But that was not all. The thought that was wreaking the most havoc in my head was, "What if that were my child?" As a parent, anytime this fear flashes through your head, you react as if that were the grave reality. Our bodily response doesn't discern the difference between what's real and fantasy in our minds. Fear feels real, so our bodies react. It was that powerful, primordial, parental fear for the safety of my three young daughters that brought on a flood of uncontrollable emotions.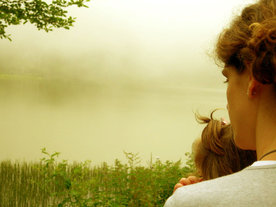 infinitereads.com
As I stood frozen, staring out of my bedroom window with a tattered Kleenex in hand, the destructive cycle of fear kept taunting me with heart wrenching questions, "What have you done bringing children into this world?, Do you have the courage to let your girls grow and go?, Would you have the strength to endure the most unimaginable event in a parent's life if it happened to you?" Fear has this way of shaking you to your core...that is until you recognize exactly what it's gettin' away with.

Vimala McClure, in the Tao of Motherhood says it best, "When you have your first child, suddenly life become precious. So precious you can strangle it with the tension of holding on. What mother hasn't had fearful fantasies of losing her child? This is the hardest time to accept letting go as a part of holding on." When our minds are consumed by fear, it's not only hard to accept that we have to let go of our children, it's unfathomable. But this is exactly fear's ultimate plan-- to trap you in your head, so your heart will not be your guide. Fear wants us to grasp our children with claws of steel because then it has succeeded. Fear is contagious, too! As mothers we need to remember that our fears can be caught by our children. Fear strangles life, hope, love, wisdom, and dreams because it halts the flow of energy. It stops movement forward. Forward motion is life, and it's what's necessary in the face of pain and suffering. We have to move forward to move out of it.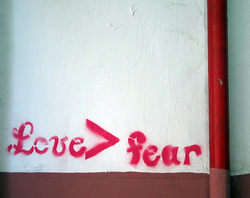 jacquierobertson.wordpress.com
MINDFUL MAMA PRACTICE ~ Choosing love

The practice always starts with allowing ourselves the space to feel all our emotions as they arise. When we allow them to flow, we are better able to witness them as they pass-- and they will pass, for nothing is permanent. Mindfulness enables us to "name it to tame it." Can you recognize your fear? What does fear look like in your body? Get good at identifying the emotions or bodily sensations that indicate that fear has sabotaged your mind. For me-- it's weeping, feeling out of control, and a general sense of sadness. The INSTANT you see your fear, you've regained control of your mind, and it no longer has the power to control you.

The next step is to intentionally CHOOSE to refocus your attention on Love. Fear may be a natural human "reaction" to pain and suffering, but it's our divine nature to "respond" with peace, love, and presence (Hamrick). The only place we can respond with peace, love, and presence is in the present moment. We must breathe, pause, and become present of all the love that currently surrounds us. It is always there in abundance, we just have to shift our attention. Where our attention goes, our energy goes.

After learning of the tragic news, the moment I noticed my fear, and felt my body and mind spinning out of control, I paused. I reconnected with my breath. That pause gave me the space to shift my thoughts to love-- immense gratitude for the miracle of the birth of my children, the profound blessing of being able to tuck them into their warm beds, kissing their lips goodnight, and for my ability to see these blessings in my life. My LOVE for my children grounds me every.single.time. Being grounded, I hug my children tighter, I linger in their presence, and I listen more than I speak.

When the world stopped on Friday, it provided us with an incredible opportunity to pause, catch our breath, and refocus our attention on what matters most-- the love we have for each other. As mothers, you and I have incredible powers to transform the world with our love, and we do it by loving our kids. Focusing on this love calms and clears our minds. The most selfless gift we can ever give another human being, especially our children when they are suffering, is our peaceful, calm presence. When we are calm and present, our hearts are wide open, and we can literally (through energetic means) transfer love and compassion into the depths of their soul. The love that emanates from an open heart is the greatest antidote to pain and suffering. At times like these, as we draw our kids close, linger in their presence, and show them respect and compassion, may our love multiply not only in their hearts, but ours as well. The love we generate from loving our kids can heal the world.

Our love is contagious.