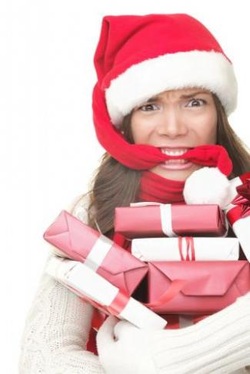 shutterstock.com
As the holidays ramp up, it's so fun to focus our attention on all of the good times that are on the way. The joy that this time of year brings can be quite contagious. And as requests for our time and attention start rolling in, it makes it hard to say "NO" to those requests that come from loved ones who are also energized by the spirit of the season. Therefore, getting hoodwinked with an over-packed schedule of commitments can happen in a glittery, ribbon-wrapped flash!

Baking, decorating, shopping, wrapping, volunteering, school performances, holiday parties, family responsibilities, traveling, caroling and general merriment... it all sounds like a blast! However, when I think about all the things I'm going to attempt to cram into my schedule before the year is through, I actually feel a bit tired and anxious. How about you? Is this reflective of what the holidays are like for your family? How does a stuffed schedule make us feel? For some moms, the busyness is energizing. But for me, holiday busyness can sneakily steal my energy and attention away from living in the moment.

On my journey toward more mindful moments, I've found it is important to sit with irksome feelings as they arise, such as feeling overwhelmed or anxious instead of ignoring them. And boy can that be uncomfortable! I am a stubborn Capricorn, so giving thought to bending the rules of "Christmas Tradition" is far from easy for me. Honestly, giving it any thought whatsoever sends my insides into a mess of knots and anxiety. Part of me says, "This is just how it is! It's always gonna be crazy! It'll be fine. My friends and family (and children!!) have expectations, I can't let them down!" But I find that sometimes those kinds of excuses don't lead to good "end results."

Rather than side-stepping a problem, having a mindfulness practice has taught me the power of seeing my problems clearly so that I can better "see" a new perspective; one that is full of love, acceptance, forgiveness, letting go, and (during this holiday season) plenty of strategies for simplification.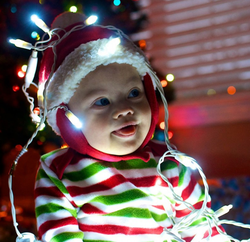 noahsdad.com
Since Christmas and the holidays are about the joy of sharing abundantly with those you love, to me, it's all about being present to the joy within the moment... not about being overwhelmed and stressed!
Therefore, I'm committing to incorporate a few of these strategies into my family's holiday experience this year:
When In Doubt Simplify
,
Surviving the Holidays
,
Potluck Christmas Party
,
White Elephant Gift Exchange
, and homemade gifts (most likely found on
Pinterest
) :)
Simplicity is a way of life that can help us to find more peace and love within our moments this season and all year long. Let's spread simplicity along with cheer! What simplicity strategies work especially well for you this time of year? We'd really love to hear. Simply drop us a line in the comments section below.
<3 Caroline