by guest contributor Sandra Seibert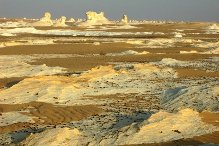 When I was 27 years old, I decided to travel with camels in the White Desert of Egypt. I spent two weeks with a small group of other travelers and three guides in this wonderful, fascinating part of the world. The only things I had in my backpack were a journal and pen, some clothes, two books, two towels, wipes, a basic first aid kit and a sleeping bag.

For the first three days, I thought I was going to go crazy. Every night I went to sleep under the big sky of Egypt, looking up at the stars. It was so quiet in the desert that I could hear my own blood pulsing through my veins. During the day, as I rode along on my camel in a slow and steady rhythm, my eyes rested on a sparse landscape of sand dunes, rocks and small bushes. There was nothing but stillness.

With every day of that simple life in nature, I became calmer and more relaxed. Although the heat was exhausting and there was no iced drink, no cold water or shower to refresh myself, I found so much peace in just being there and letting go of all the stress and pressure from my life at home. There were no luxuries, no shopping malls, no computers, no electricity, no distractions—nothing but the simplicity of nature far away from the modern, technology-based world. Simple meals cooked over an open fire, bread baked under the coals in the sand, sleeping on a mat... Looking back, I call this experience "my journey to simplicity." Never have I felt more connected to my inner being. It was on this trip that I began really listening to that quiet voice within—my intuition and inner wisdom.

Despite the busyness of our daily lives, it is possible to capture the same stillness to reconnect with ourselves.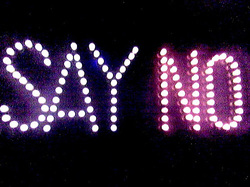 careergirlnetwork.com
Living simply means SAYING NO to overwhelming schedules and outside demands. I value the needs of my family and of myself by setting boundaries and creating space and time. Saying no to others and their expectations is often a big challenge but is essential for slowing down and inviting simplicity into my life. Less is more - less stress, fewer appointments, less pressure, less "I should/must/need" leads to more awareness, relaxation, time, peace and balance. Saying no means listening to my intuition and gut feeling, and doing what I feel is right for me and my loved ones. In being connected to myself I become aware of the times when too much is going on and when it is time to slow down. Allowing myself to do that is a big step.

Saying no means setting priorities: What is really important NOW, today or over the coming weeks? As a mom I am a role model for my sons. When I am stressed out, exhausted and running low on energy, or I run around like crazy in order to get
everything done, I am not supporting my boys because I am too stressed out and tense to be fully present. By prioritizing and rethinking my schedule, my to-do list and my own expectations, I am able to free up time for us as a family: time to spend with the boys playing games together and doing fun activities, time to talk and listen, time to catch up and connect with my husband.

During the holidays it's especially important to slow down, reflect on the past year and our experiences so that we can prepare for the New Year, and spend time with our loved ones without worrying about the decorations, table settings, meals, baking, gifts, etc. This year I chose simplicity: I decorated less but enough to create a nice atmosphere in our home, I bought a wonderful advent wreath at a local flower store instead of making my own, and I took time to play with the
kids instead of baking cookies myself. Letting go of the perfectionist in myself empowers me to slow down and take a break, to become aware of what is really important and what I want to let go of. When I choose simplicity in my life, I cease striving for more, faster, better and bigger and I find balance and peace.

Living simply also means SAYING YES to my own needs. As a mother I give and share my love all the time. In order to charge my batteries, I need to say yes to myself and practice self care. I say yes to slowing down and nourishing my soul with things I enjoy doing without feeling guilty or bad. I love to read fiction books and watch movies, to treat myself with facials and enjoy a cup of hot tea. By allowing myself to recharge, I connect with my intuition and my own essence, which is essential for balanced and mindful living and parenting.

As a mindful mom, I also say yes to what serves my family. I create healthy structures and routines based on simplicity. I schedule family time by having dinner together at home and arrange for times when we can talk without doing a thousand other things. I establish bedtime routines and morning routines. Young children and tweens especially need daily routines and structures. It creates a secure and safe foundation from which they can approach their daily challenges with a more balanced mindset.

Simplicity is a lifelong journey to ourselves. Cleaning out the mental clutter and focusing on the positive simplifies our state of mind and enables us to live consciously. Living in the present moment without worrying about the past or future, and simply being without attachment to "things," old beliefs or unhealthy structures, gives us the freedom to become our true selves. When we celebrate our imperfections we can live authentically and enjoy the simple things in life even more.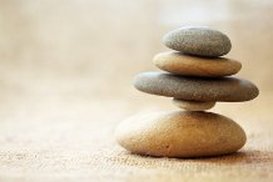 Simplicity for me is embracing what is. Finding peace with what is. Being grateful for the simple things in life. Simply being - joyful, authentic, free from clutter and baggage, without fear and worry, present, balanced, connected with yourself, in peace with life.

What does simplicity mean to you and how do you integrate it into your life? Feel free to share your thoughts.

Sandra
Sandra Seibert, ACC, CPC, is the
Joyful Growth Coach
for women, parents and expat families. She is passionate about helping women and mothers master change with joy and grace. Her philosophy is that the only constant in life is change; each challenge presents valuable opportunities to grow personally and experience transformation. Sandra believes in the importance of achieving inner balance to maintain physical, emotional and mental health in a fast paced and very technology-focused world. Her professional and personal backgrounds complement her coaching service, which she offers globally in English and German.
You can learn more about Sandra Seibert at
http://joyfulgrowthcoach.com/
or join her community on facebook 'Sandra Seibert -The Joyful Growth Coach'.
A gift for Mindful Mothers - join a FREE group call:
"End of the Year - Reflection ~ Make peace with 2012 and get ready for 2013."Email her to get more information or for registration or visit:
http://joyfulgrowthcoach.com/portfolio-items/end-of-the-year-reflection-make-peace-with-2012/