Before I became a mom, I was successful, conventionally speaking. I went to college, got a good job, made good money, got my Master's degree, went on vacations, wore pretty clothes, drove a new car, yada, yada, yada. In terms of our society's standards for making it, I was. Then I gave birth. Instantaneously, my life changed. I left my teaching job, gave up my salary, no longer went on vacations, ditched the dry-clean only attire for 100% cotton and 100% washable frocks, and traded in my fancy two door coupe for a minivan. In terms of society's standards for making it, as a SAHM (stay at home mom), I wasn't. But I was still happy. I think? Wait….I really can't remember. My oldest was 17 months old when I gave birth to twins, so I'm serious when I say, for the first 3 years of my new life as a mother, I really had no energy or time to think deep thoughts of who I was or whether or not I was still "successful." In my new world, success was potty training a toddler while tandem nursing two babies at the same time. But as my girls grew, so did my unoccupied time. And I know you know what happens when you have unoccupied time. You think. So I thought….and…oh yeah, spent more time on Facebook.

IT'S COMPLICATED

My relationship with Facebook is, how shall I put it… complicated... classic love/hate. (Of course, this does not include our Mindful Moms Network page or other positive, inspirational pages and Facebook communities!) What I love about Facebook is how connected I feel; connected to friends that I haven't seen in the flesh for over a decade just by checking out the newest pics in their photo album, or by being able affirm their funny stories or show my support during their hard times with the click of a "like" button. But it's the weirdest thing. For as much as I Iove how Facebook allows me to feel connected to my friends, I "hate" how it sometimes makes me feel disconnected from myself. The longer I peruse image after image of exotic trips taken to Bali or Bora Bora, the most recent Coach purse purchase, the new 45 ft boat used for sensuous sunbathing, or the wild girls' weekend in Vegas, it's easy to begin to feel a little depressed. (Gosh, maybe this is why I like to drink a glass of wine as I surf Facebook... numbs the pain a bit.) Everyone's lives look so flashly, so exciting with all their stuff that only moolah can buy. Last time I checked, I am not actually getting paid the $112,962 that the most recent issue of RealSimple says that as a SAHM, I would earn. So I can't help but go there, (perhaps you know where there is) feeling not good enough or that I don't have enough; feeling that they are making it. They are a success. And, I'm not.

DELIBERATLY FOCUSING ON THE GOOD

My misadventures on Facebook have been a profound teacher, it turns out. The last time I was on Facebook (sans wine 'cause I wanted to feel all the pain), I did something crazy. I watched my thoughts of envy, fear, doubt, and failure flow through my brain without attaching to them. I just noticed them. I didn't judge them. I didn't push them away. I didn't react to them by feeling bad. In this mode of acceptance, I saw with a clear mind and a clear heart something amazing. My unhappy feelings weren't a result from wanting what others had. No, my unhappiness came from using an deeply flawed measurement tool to assess my "success" in life, especially in my new life as a mom. The moment I got this was the moment I realized I wasn't flawed. The assessment tool I was using was. The longer I (unconsciously, of course) continued to use external measures to quantify my worth, the longer I would feel lack, unhappiness, and a general discontentment with my life. This was the moment the shift to focusing on the good happened. It was the moment I realized that in order to be happy-- truly happy-- I had to redefine success for myself.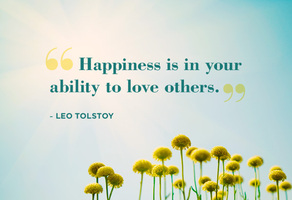 "SHIFT HAPPENS"
(gotta love Dr. Robert Holden)

This shift in perspective changed my life. Instead of unconsciously using a measuring device, one that focused on lack and fear, I would consciously use a device that focused on abundance and love to measure my success. I made the decision to measure success not on what I acquired on the outside, but rather, from what I obtained on the inside-- how present to love I am in my life.

In the book, What Happy People Know, the very first of the "12 Qualities of Happiness" is love. "We often think that being loved is the best feeling in world, but it's the second best. The best is loving someone else." It takes presence to love someone else. When we are not unconsciously caught by wanting to do more, be more, get more, we can be present with ourselves and the ones we love. Based on my new definition of success, how present I am in my life to love, I'm rock'n it. I love my girls wildly, unconditionally, and contagiously. When my daughter asks me to dance with her while I am in the middle of preparing dinner (while also texting, emailing, or talking on the phone), and I seize the moment to sweep her up in my arms and twirl her around the kitchen, I am present to love. When she's having a bad day, and her emotions have gotten the best of her (and I, myself, just want to scream), and I seize the moment to kneel down and give her a big hug, I am present to love. Every time I am about leave the house (I am running really, really late), and I seize the moment to respond to my girls' calls for yet another hug and kiss, I am present to love. And just the other day, when I was present enough to hear my three daughters playing house upstairs, and my oldest said to her younger sister, "No, Izzy. You don't have to change out of that dress. You look beautiful just the way you are," I am present to feel such amazing love and appreciation for the awesome opportunity of motherhood I've been blessed with.

Every moment I am truly present, hence not stuck in my head with thoughts of what's missing, worry, stress, anxiety, or fear, my capacity to love is increased exponentially. The more I love, the more I focus on the good in my life. The more I focus on the good and all the abunance (of love) that surrounds me, I experience deep happiness. As a mom who wants her greatest legacy to her children to be happiness and health, I define success as how present I am to love. It may not be flashy, and it's definitely not something I can take a picture of and post on Facebook.