MEET THE MAMAS
Jen
Being a working mom to three girls (twin 6 year olds and an 8 year old), mindfulness is what keeps me balanced, sane, and present-- it's what keeps me showing up as the best version of myself to my three vibrant and energetic girls!
Currently living in the Minneapolis area, I am constantly seeking a balance between my work as a full-time faculty member at Augsburg College, a part-time yoga teacher, a
Mindfulness In Motion
instructor at the University of Minnesota Center for Spirituality and Healing, and co-creator of
MindfulPower
-- a mindfulness-based training program for empowered performance.
I truly love how diverse, full, and exciting my days as a working mother are. However, I didn't always have this perspective. While pursuing a life long goal of becoming a college professor, the same month I received my acceptance letter into a my doctoral program at Michigan State University, I found out (after years of trying to conceive) that I was pregnant! Nine months later.... one year into graduate work, I found out I was pregnant.....again.......with twins!
The decision to leave my graduate work to stay home full-time with my girls was a conscious and intentional choice. However, I was
completely
unprepared for how difficult this transition would prove to be. Within one month, I felt like a different person-- and not in a good way. I felt lost, sad, irritable, and completely disconnected from myself. Surely some of these emotions were due to the lack of sleep that came with being home with a 1 year old and newborn twins, but I realized there was more to it than that. If I was completely honest with myself, I realized that if I neglected fundamental aspects of myself-- like my passions for creating, teaching, writing, yoga, and socializing with others-- I was, in fact, quite ineffective as a mother!
Mindfulness, yoga, and meditation had been passions of mine for over a decade prior to becoming a mom, so I knew very well the transformational power of acceptance, letting go, non-judgment, trusting the moment, patience, and shifting my perspective when times got tough. The problem was, I was not practicing any of it. In a true "break down" or "break through" moment, I decided to start practicing elements of mindfulness in my everyday life, noting their effectiveness, and then writing a blog to share these tips with other moms who were looking to add more passion, calm, peace, joy, and optimism in their everyday routine.
What started as a blog, quickly gained momentum, especially catching the eye of my good college friend, Ronelle. She suggested we join forces and create a website that connected moms around the principles of mindfulness and community; thus Mindful Moms Network (MMN) was born in August of 2011. Ronelle and I
quickly
invited my sister-in-law, Caroline, to join us in our efforts.The three of us ladies truly
believe in the power of awareness, self-discovery, and pursuing our passions so as to be Mindful Mamas!
---
Ronelle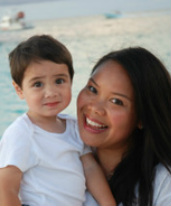 I'm a Mindful Mama to three sweet, spunky, and curious children, ages 8, 6, and 2. Originally from Michigan, I now live with my kids and husband in Connecticut, about 45 from New York City.
When my first child was born, I became a stay-at-home mom, which I enjoyed very much-- that is, until baby number three came along. Suddenly, I felt overwhelmed by the seemingly never-ending demands of motherhood and significantly out-of-touch with myself. For months, I was having breakdown after breakdown, doubting my abilities to handle everything that motherhood entailed. My struggles during this difficult time would soon become the catalyst to uncovering my true passion and purpose--
helping moms to reconnect with their authentic selves, find peace and joy in motherhood, and live an empowered life.
I'm deeply grateful for the challenges I have encountered through mothering because my experiences have helped me to: cultivate compassion and understanding toward other mothers; find the strength within myself to become the mindful, loving, kind, patient, and joyful mother I want to be; and join forces with Jen and Caroline to create MMN. I am passionate about working with mothers and giving them the guidance and support they need to be the best they can be for their children.
I received my B.A. from the University of Michigan (where Jen and I met and became great friends). My professional background is in elementary education, website production, and human resources. After being a stay-at-home mom for eight years, I recently returned to work part-time handling editorial and publishing projects at
Chicken Soup for the Soul
in Cos Cob, CT. I love anything having to do with inspiration, personal growth and development, and the power of positive thinking!
---