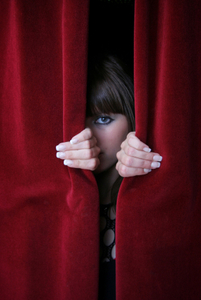 eatlivegrowpaleo.com
I had to laugh out loud. I was in my car, on my way to a yoga class, in tears because of an unrelenting week of attending to the constant demands of my three small children. No Doubt's, Don't Speak was doing a fine job of causing a sense of temporary amnesia as I sang along. When the song came to an end, the DJ announced, "Here's an interesting tidbit about the band; Gwen Stefani (lead singer) admits to shutting herself in her closet to get away from her kids every now and again." That's when I had to LOL.

I'm not sure why I was laughing. Perhaps it was because I couldn't help but picture Gwen Stefani sitting in a fetal position in her totally amazing closet while her children beat relentlessly on the door, or because I was in the middle of a "get me the hell out of here" crisis of my own; and identifying with Gwen Stefani felt really good.

Either way, I concluded that the Universe was speaking directly to me: it's okay to put a little space between myself, my kids, and my mothering. All moms (even super famous ones who probably have housekeepers, chefs, and nannies) need their space.
Wide Open Spaces
cepolina.com
Gwen needs it, you need it, I need it, and most importantly, our kids need it, too: SPACE.

It's easy to underestimate the importance of space, I think, because it's not tangible; it isn't something we can see, touch, taste, or grab. But just because we can't quantify it doesn't mean it doesn't have tremendous value. For instance, consider the importance of the space between music notes, bites of food, sunrise and sunset, contractions during birth, or words on a page. Without the space between, none of these things would be the things that they are. Music would be one sound, food would have no taste, days would have no end or beginning, one big contraction would be…well, hell, and if all the words on this page ran together, they'd have no meaning.

Space is essential because it allows for physical things to be defined. Space allows for things (including you, me, and our kids) to be what they are.

Since this idea of space is rather illusive, it's importance in relationships can be looked over. After the DJ exposed Gwen's "confession" of retreating to her closet for a little space from her kids, he went on to say that in a recent survey (of what, I have no idea), several working mothers openly admitted to looking forward to business trips and going to work. "Yeah, and….," I thought. There was something about the way the DJ talked about these confessions, or guilty pleas, of mothers that perpetuated the myth that it is taboo for us to admit that we all need a little space away from the demands of motherhood, and yes, the sometimes slightly annoying behaviors of our kids.

As mindful mamas, we know our perceptions of things impact how we feel and how we mother. Thus we choose to perceive space in our mothering, not as something that's "bad" or something to feel guilty about (I have in the past, I totally admit it), but as something that is essential for both the growth and development our children and ourselves!

Thus, as mindful mamas, we intentionally create space between ourselves and our kids because we know that when we create space for our children to be heard, express themselves, explore their emotions, do things on their own, struggle (the good kind), and create, we allow them to define themselves. Not only that, space in a relationship allows the other person to feel seen, heard, and understood because they are given the space to express themselves. It's strange paradox, but space in a relationship actually brings people closer together!

Mindful Mama Practice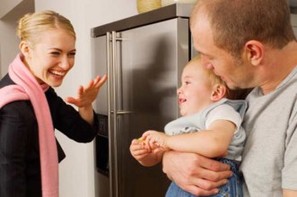 goodtoknow.co.uk
Creating space takes practice, mindful moms! Test, tweak, and try out these tips that will help you create a little space to grow (that means both you and your kids!):

Create Space AWAY:
Finding physical space away from our kids is mutually beneficial. It was a bit of a hard pill to swallow, but I had to admit to myself that my kids were not only just fine without me being there all the time, but that they actually flourished in my absence.

Interacting and being with other loving individuals in their lives (like their dad, grandparents, teachers, and babysitters) allowed them to discover more about themselves. Interacting with different people in different situations helps us to grow into ourselves because we discover things about ourselves that only these people and circumstance are able to teach us. We act differently in different settings around different people.

Same holds true for you, too! You are still growing into yourself everyday. Get out there and meet new people and do new things. As you create the space for your children to be taken care of by someone else, seize the opportunity to get out and expose yourself to new situations that teach you more about who you are continually becoming.

Create Space to Just BE:
It's important that as mothers we protect our children's schedules so there is space for them to just be themselves with only themselves. This space looks different at different ages of our kids. When my girls were babies, I gave them space to self sooth and to entertain themselves even if that meant lying on their backs and watching the mobile spin around for 20 minutes. (Okay, quick confession-- about 90% of the time back then, I felt totally guilty about it.).

Today, with a new shift in perspective, I am so much better about just setting out craft material for my preschoolers and getting out of the way for them to create-- that means, I no longer hover over them, asking incessant questions about their choice of color combinations, suggesting they do X with Y, or overly praise every action they perform. Other times, I'll just say, "go play." That's it. "Go play," encourages them to create, imagine, be free, discover, have fun, and explore...just be. When you create the space for them, you create the space for yourself, too. As they are spending time with themselves, what are you going to do with your space?

At every age, our children (and us, too) need space to be alone, to just be with ourselves. So when your teenager comes home from school and slams the bedroom door behind himself, just give him some space (without the probing questions and unsolicited advice). He knows you are there even though you are not right there. When our children are given time to process their thougths and feelings on their own, not only do they learn incredible things about themselves, they become empowered to solve their own problems in (mostly likely) more creative and unique ways than we could have ever come up with.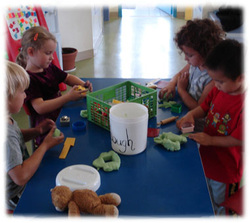 osoyooschildcare.ca
Create Space in the PRESENCE of Your Kids:
We can also create space in the presence of our kids every single day. The biggest way I've been practicing this lately is by being a good listener.

Every time I am intentional about listening to my daughter when she speaks, that means not internally judging and analyzing and then externally advising, I create the space for her to be heard, validated, and empowered to solve her own problems. In this space of my seemingly "non-doing," I am doing so very much.

I have this tendency to do too much or say too much because of my desire for my girls to feel noticed. Ironically, the more I do and say, the less space I create for their thoughts and ideas; the less I actually notice them.

Create a little space between your instant reaction to solve their problems, offer advice, do a specific task for them, or to discipline. It may sound counter-intuitive but try talking less, asking fewer questions, explaining less, and offering advice only when asked. You may notice, as I did, that your children naturally open up more, share more, inquire more, explore their emotions more, and do more for themselves. Crazy, I tell ya!

Create space, mama. That's really all you have to do! Gently release your grip on doing everything, being everything, controlling everything for your child (yes, I'm exaggerating to make a point). Create the space and notice how darn good it FEELS to be free-- free from the pressure you put on yourself to perfect every situation, interaction, and moment with your children. I bet you'll find when you intentionally create the some space in your relationship with your child, they feel this freedom, too; a freedom to discover, explore, and just be themselves in a loving, accepting, and safe space of your heart.