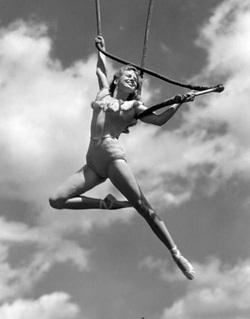 dstiletto.tumblr.com
My pony tail was dripping with sweat. I couldn't help it; it was sweltering hot in that room. "Here he comes," I thought.

As he snaked his way through the sweltering room packed tight with sweaty yogis in Lululemon attire, my intention, my focus was to nail every pose. Oh by the way, I should mention that he was not just any yoga teacher-- he was the yoga teacher; the guy who'd created the teacher training program I just completed.

I had to look graceful, right? I had to be strong, right? I had to stick that reversed half-moon like I was posing for the cover of Yoga Journal, right? I was a yoga teacher now; the stakes were higher. This is the story fear had created in my mind.

We were all in a good flow, moving seamlessly between postures, when I heard his voice coming closer and closer. I tensed up. I wanted to look perfect. As he was nearly right in front of me, I gracefully stepped my right foot forward, ready to sweep my arms up to come into warrior one, when my foot slipped on the sweat on my mat, and I fell.

"Yoga is a practice everyone, not a performance. This is not "Cirque de Yoga." You will fall, you will make mistakes. It's all part of the journey…" he said calmly, and matter-of-factly.

After I got over the initial freak-out in my mind that he was saying this because he'd just watched me almost take out a full row of fellow yogis in domino fashion, I thought about how great this line was for us, Mindful Mamas! Motherhood-- it's a practice, not a performance!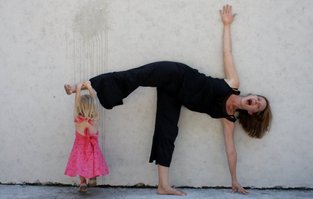 mindbodygreen.com
MOTHERHOOD- A Practice, Not a Performance

This shift in perspective is very powerful. Thinking of motherhood as a practice and not a performance shifts the focus from fear to love. When we think performance, we think perfection. And where perfection is involved, there is always a fear that being less than perfect will result in pain. As mothers, this can be the pain we feel that our imperfections might be screwing up our children-- and we feel bad about that! Fear is the anticipation of future pain.

For example, have you ever noticed how fears about "screwing up" your child are projections into the future? You are worrying about a future child, a future experience, a future event that doesn't exist today. It isn't real (even though it feels so real…that's fear's trick to making itself stick).

Now try this trick: Think about all the times in the past when you feel you totally "screwed up" as a mom (well, don't dwell on them, otherwise this little activity may back fire). NOW-- step into the present moment. Look at your child TODAY-- right now, at this moment; focus your attention on how wonderful, vibrant, loving, forgiving, resilient, trusting, and well-adjusted your child is NOW! See? It's always just fine in the present moment. And if it isn't, I guarantee you are probably doing everything a loving mother would do in this present moment to help your child.

Remember that we are not supposed to be perfect mothers. Motherhood is designed to be a practice and not a performance. This allows us to shift our thoughts out of fear of the future and into the present moment where fearless love is always found.

Motherhood is a practice. We are gonna make mistakes. And with mindfulness and awareness, we trust ourselves that we will do better next time. That's what a practice is-- continual refinement and growth where it is required that we take 3 steps back before we take 1 step forward. Going through the poses of our mothering with this perspective allows us to come to this practice with a sense of relaxation, trust, openness and acceptance. And I just have to say, a funny little thing happens when we approach our mothering this way-- we stress, perfect, and worry less. And as we stress, perfect, and worry less, we tend to naturally do less of those things (like yelling, losing our cool, or getting lost in guilt) that make us "think" we are screwing up our kids.

This is not Cirque de Motherhood. You will fall. You will make mistakes. It's all part of the journey. Don't allow fear of the future to torment you today! Just remember that motherhood is a practice. If you come at it every day with love, perseverance, and awareness, your future (as in your kids) will work itself out beautifully one present moment at a time.